How to become a TVCC Ambassador
Email Sharon Lopez, Membership Coordinator, at sharon@temecula.org.
Looking for a great way to maximize your Chamber Membership? Join the Ambassador Program and be the first to meet new members.
The Ambassador program promotes the enhancement and ideals of the Membership Committee. Individual members are trained to become a mentor for the incoming new members of the Chamber. Ambassador's facilitate and promote Chamber events, welcome new members and outreach to the Chamber membership as a whole.
A SAMPLE OF AMBASSADOR ACTIVITIES INCLUDE
Ribbon Cuttings
Greeters and Hosts at Networking Events
Event Promotion and Marketing
Committee Involvement
Welcome Calls to new members & Retention Calls to exiting members
Ambassador Meetings
Ambassador Appreciation events
Save
Save
Chirho has been a Temecula Valley Chamber Ambassador for two years. Chirho has been working in financial services since 2003. His passion is to help as many families as possible increase their quality of life by finding opportunities in their current financial plans and finding money in places they may not have know of. He is an educator of how to "Create Your Personal Economy" and "putting money back in your pocket"- interested? Check out his webinar on 4/10 FB page here!
We see Chirho at the TVCC virtual mixers, meetings and educational webinars. When he's attending you will find him offering to help members and individuals in the community "protect their legacy." He's easy to talk to, friendly, approachable with all, and continues to support and shop local. We know that Chirho is a valuable resource to the community and on the way to his goal of, "being the best advisor in the area!"
Thank you for being a dedicated Ambassador with Temecula Valley Chamber of Commerce.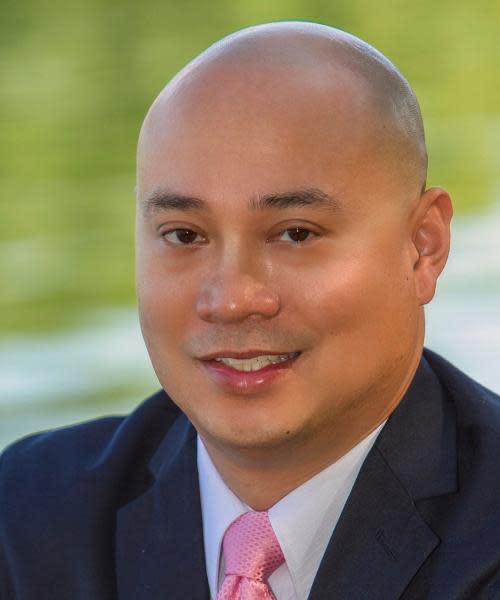 THANK YOU TO OUR CURRENT TVCC AMBASSADORS
Alifah Ahmad, Disc and Beyond
Velvet Bern-Radel, UR WIRE GUY
Violet Bowlan, Violet June Photography
Maggie Boylston, Law Offices of Charles P. Boylston
Rigoberto Cancelada, ACA Janitorial Services
Anthony Caracciolo, Insurance All Stars Agency
Bob Caracciolo, Insurance All Stars Agency
Tena Carcciolo, Insurance All Stars Agency
Leah Craghead, Coldwell Banker Commercial SC
Michael Crawford, Golden Eagle Properties
Doug Crichfield, Strachota Insurance Agency, Inc.
Socorro "Saki" Donadio, Touchstone Crystal by Swarovski
Matthew Fallesen, Edward Jones
Angie Fann, AR Workshop
Greg Fann, AR Workshop
Bobbi Frye, Raising Cane's Chicken Fingers
Jimmy Fu, Jimmy Fu-tography
Chiro Garcia, Chiro Financial Solutions
Askia Geigle, Century 21 Preferred
John Hamby, FirstLight Home Care of Temecula
Paige Hardy-Hill, Hardy Realtors
Christa Hoag, Home Perfect Restoration

Iris Hooper, THRYV
Deborah Jankowski, CRPS Warriors Foundation
Luanne Jobgen, Habitat for Humanity
Robin Johnson, Law Office of Robin Johnson
Cynthia Lee-Meier, American Incentive Advisors
Janet Licitra, TeamLogicIT
Michele Linse, Trauma Intervention Program
KT Matthews, SendOutCards
Christine Medina, Kannaway
Linda Mejia, United Community Realty, Inc.
Megan Miller, BirdsEye VR
Kristara-Marie Muñoz, Wellness Diagnostics & Medispa
Beatriz Nayeri, BN Graphic Designs
Connie Newman, Amazon Toner
Crystal Prado, Thinking Forward Accounting
Josh Schaffer, Meridian Payroll & HR
Nesanne Seibert, D Lighting Inc.
Lie-Ming Sie, Optimal Medical Billing & Consulting
Kathy Sizemore, A-Bell Alarms
Tom Somers, Stonehouse Insurance Services
Hope Suhr, Hope the Medicare Lady
Kathleen Williams, Highgate Senior Living
Neda Yegan, Temecula Valley Real Estate
Carla Yriqui, Picasso Dental Care